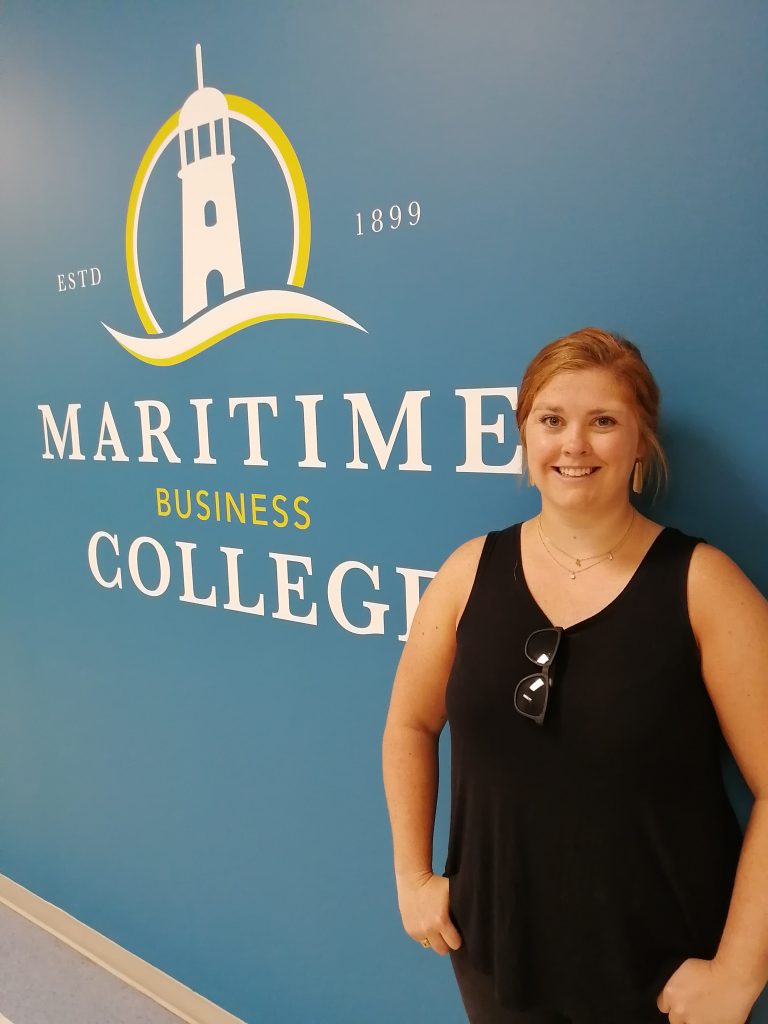 Alex MacDonnell's career path has not been linear.
She graduated from the Counselling Skills/Social Human Services program 10 years ago when it was still offered at Success College prior to becoming part of Maritime Business College.
Before enrolling the Antigonish native received a Bachelor of Arts with a Major in Sociology and Minor in Psychology from St. Francis Xavier University.
She learned about the counselling program from a friend who was already enrolled at the time. After visiting the college and having a meeting, she applied the same day.
When she started the program wasn't what she expected.
"When I went to St. F.X. I did not do well at all," said MacDonnell. "The only dean's list I made was to be kicked out or on probation. When I came to Success College it was a whole different ball game. It was courses that I loved and was interested in. I actually graduated with high honours."
The teaching style of instructor James Ingram, all of the course material being relative and how students spent full days in class were what she enjoyed about her student experience.
She added her hard work, education, the program's certifications on her resume and the connections she made with people in the field helped her following graduation.
Her first job was for Feed Nova Scotia working on their crisis hotline. She moved on to become an office admin at Hepatitis Outreach Society of Nova Scotia (HepNS) before moving into programs and then executive director. She also did some work for "fun" with Crosbie House. For the last four years MacDonnell has been the executive director of Stepping Stone.
She would tell future counsellors the field is all about making connections, doing volunteer work and practicing self care.
"That is such a cliche thing to say, but our career span is five years, so you have to look after yourself."
To prevent the burnout people in the field can experience, she spends time with her dogs, reading, gardening and camping in the summer.
The 35-year-old has been able to succeed all of these years by having someone in the field to bounce ideas off of and relate to.
The career still excites her. Working at Stepping Stone's has been her "dream job" because she loves all of her clients and can develop programs as the times change to keep up with current trends.
She's also responsible for ensuring the organization runs smoothly. That includes hiring employees, the finances are in order, grant writing, report writing and counselling with clients and staff.
"I always knew I wanted to be in the helping field and I think it's the program users that keep me going," said MacDonnell. "We see a lot of sad stories, a lot of horrible stories, but there is also a lot of successful stories as well."
"Knowing that we're a major support, or the only support for some people keeps me going. They need us, not just me, but my whole team."
Her career goals now align perfectly with what she's doing at Stepping Stone. She's working on securing a "forever" location for the organization as they attempt to purchase a house. She's also working on getting a transition house for their program users so they can have a place to stay and sleep.
Each year she returns to Maritime Business College to speak to the class and take part in the roleplay exercises included in the curriculum.
"I love it," she said. "I feel like I'm somewhat giving back to the future counsellors."
One of her existing staff members is also a graduate of the counselling skills program and she has taken students from the program for on-the-job training placements.
That is an opportunity for her to get a refresher and learn any new things being taught today.
"Even if they do a student placement with me and they move on to another organization, I can now pick up the phone and call them if that's a support that one of my clients needs," said MacDonnell.
Outside of her work she volunteers her time sitting on committees specializing in battling human trafficking and fighting for decriminalization of sex work.
"It expands your knowledge. An organization might be doing one kind of project that might benefit our program users. So getting different ideas and just making those connections and keeping up with current trends is super important."