Earn Your Paralegal Diploma and Train for a Career in Law and Justice Administration. Be Career-Ready in 14 Months!
Exciting Career Opportunities
Paralegals, Legal Assistants, and Legal Secretaries play an important role in today's justice system. They work closely with lawyers and Crown prosecutors and serve as valued members of a legal team.
Graduates from our Paralegal Diploma Program look forward to satisfying careers working under the supervision of a lawyer.
Although Paralegals cannot provide legal advice, but they do provide vital assistance to trial and case preparation. If you are a detail-oriented, organized individual interested in the intriguing field of law, then Maritime Business College's Paralegal Diploma Program is a great fit for you.
The best way to see if Maritime Business College is the right fit for you is to come and tour the school. You can tour our facilities and meet with students and instructors.
Earn Your Paralegal Diploma in Just 14 Months!
Paralegal students at Maritime Business College finish their courses in 12 consecutive months, followed by two months of on-the-job training. During this period, students have a winter break, spring break, summer break, and are off on statutory holidays.
Courses
Maritime Business College's Paralegal Program uses a modular system of training. Modular programs use theoretical and practical issues that are closely integrated with clearly-defined learning outcomes. Some of the courses in the program include:
Criminal Law
In the Criminal Law module, you will learn an overview of concepts in criminal law and procedures and how they relate to a Paralegal or Legal Assistant's role. Some of the topics you will learn about are as follows: presumption of innocence; the Criminal Law of Canada; the nature of a crime, investigation, arrest, and trial procedures; evidence and appeals; sentencing; and more.
Rights and Freedoms
In the Rights and Freedoms module, you will explore the Canadian Charter of Rights and Freedoms. This course introduces the meaning and application of the Canadian Constitution Act and a broad range of Charter protected interests.
Family Law and Drafting
In the Family Law and Drafting module, you will learn about laws that affect families. This module emphasizes the legal implications of a family breakdown and child welfare. Additionally, you will learn to prepare legal documents for family law.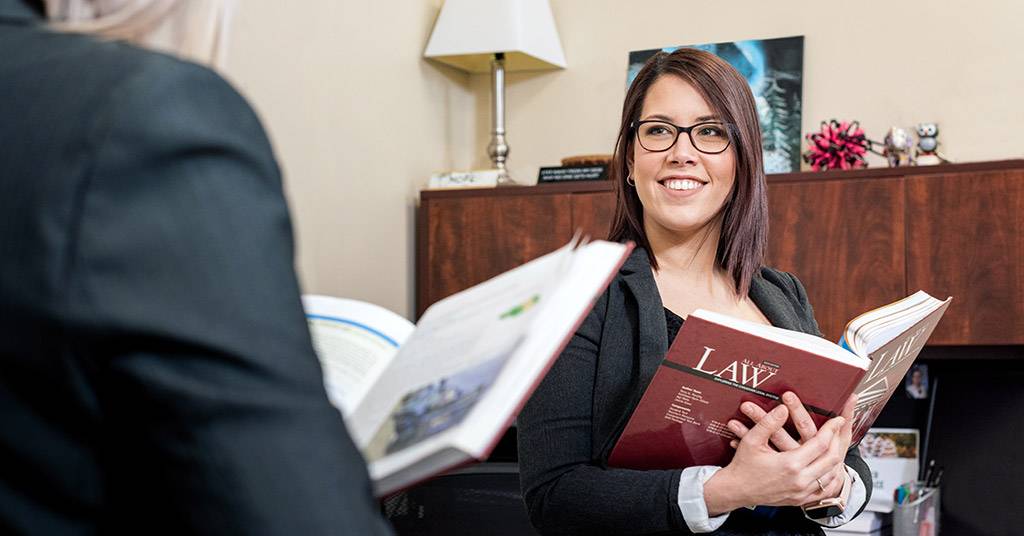 Practical, Hands-On Paralegal Training
The Paralegal Diploma Program at Maritime Business College equips students with the knowledge and practical skills to function effectively as a Paralegal or Legal Assistant. As a successful graduate, you will enter the professional world with confidence after gaining plenty of practical experience in necessary administrative and legal matters.
To ensure that students thrive in a stimulating environment, our Paralegal diploma program employs a variety of educational techniques. In addition to traditional classroom instruction, your experience will be supplemented with field trips, guest speakers, industry videos, team projects, online interaction, case studies, role-playing, and mock simulation.
Experienced Paralegal professionals may choose to specialize in a particular area of law, such as: Litigation, Personal Injury, Corporate Law, Intellectual Property, Labour Law, Bankruptcy, Immigration, Family Law, or Real Estate.
*Employment Rate based on contactable MBC graduates from the last four years employed in a related field.
Source: JobBank.ca
NOC Code: 4211 – **Wage data is for employees in all ranges of experience in the field, rounded down to the nearest dollar, and based on Nova Scotia data. Local (or regional) income may vary.
Is Paralegal Right for You? Get More Info…
If you're interested in exploring whether Maritime Business College's training programs are right for you, fill out the form on this page to receive more information.