Corrections and Law Enforcement Student Taylor Des Jardins wasn't afraid to follow her heart when choosing a career.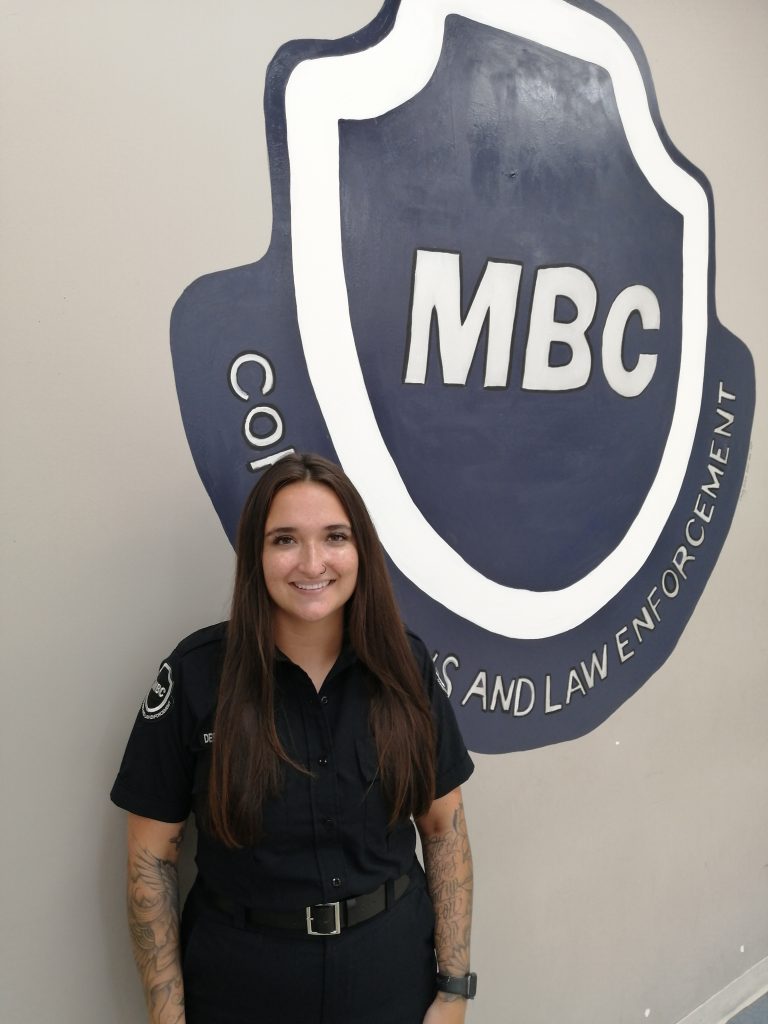 The 25-year-old grew up in Old Barns, a community just outside of Truro.
Prior to enrolling at Maritime Business College in September 2021, she went to the Dalhousie Agricultural Campus taking a diploma in Business Management specializing in Agriculture.
Even though she grew up with a large agricultural background on a hobby farm, doing jobs like milking cows, and taking part in 4-H where she would show cows, goats and horses, she felt that wasn't her desired career path.
Before she started university her cousin was working at Northeast Nova Scotia Correctional Facility and took her on a tour.
The 2014 Cobequid Education Centre graduate felt the longer she pursued a career in agriculture she kept getting drawn back to corrections and decided to change directions.
She has a friend who is a recent graduate of the program that visited the class as a guest speaker and spoke about working at the Nova Scotia Sheriff's Office.
Des Jardins decided that is where she wants to work after spending a couple of years in corrections.
"There's so many different tasks you can be doing," said Des Jardins. "You're not always sitting in court. Sometimes you're doing evictions and different stuff like that. I like excitement and I like being faced with challenges."
"I never thought I would be a confrontational person, but when I'm put in tricky situations I enjoy it."
She has enjoyed the program so far. She has also made many new friends and instructors Greg McCamon, Paul Olmstead and Pat Moran foster an atmosphere that feels like a big family.
"It's almost like we're their kids," said Des Jardins. "They really take us under their wing and help us every step of the way."
At the beginning of the school year, she didn't think she would be able to do the Correctional Officer Physical Abilities Test (COPAT) or the Physical Abilities Requirement Evaluation (PARE) in the required time.
"When I first saw the bar and was told I would have to jump over the bar I was like there's no way I'm gonna be able to do that, but thankfully with the help of our teachers I have been able to manage it," said Des Jardins.
She has continued to try and improve her times for both tests. The instructors offer the students gym time after the school day is over and stay with them so they can reach their goals.
The policing side of the program has been "eye-opening and enjoyable." Even though it's not in her plans to pursue it as a career it made her question whether she might want to consider it in the future.
"I learned so much even with just being exposed to the criminal code and different things I never would have learned."
She added some of the information and stories from McCamon, Olmstead and Moran on both the corrections and policing side are things she never would have heard if she hadn't enrolled in the course.
"In that way, it has been wonderful that our teachers have had so much experience and been able to share their own knowledge."
Des Jardins is happy with her choice to attend Maritime Business College and would recommend it to anyone.
The instructors assist the students with finding their on-the-job training placement asking what they would like to do and what is best for them.
"They say this is what we think could be best for you and your personality," said Des Jardins.
She was recently hired by Truro Police Services in the cells department where she will also do her on-the-job training. The responsibilities include monitoring the cells, inputting paperwork, making sure people are behaving and more.
It's exciting for her to be able to gain some industry experience while in school.
"It's encouraging and very validating to realize I am able to do what I am going to school for before I even graduate," said Des Jardins.
Her advice to anyone looking to study in order to enter the field of corrections and law enforcement is don't be afraid to give it a try and come speak to the teachers.
"They will tell you every honest detail and you won't regret starting," she said. "Most of all be prepared to be physically fit, it will kick your butt."
One of her goals is to find a job she loves and enjoys and make it not feel like work.
"I never thought I'd say I'd enjoy coming to school, but I'm going to miss coming to school when this is over," said Des Jardins.