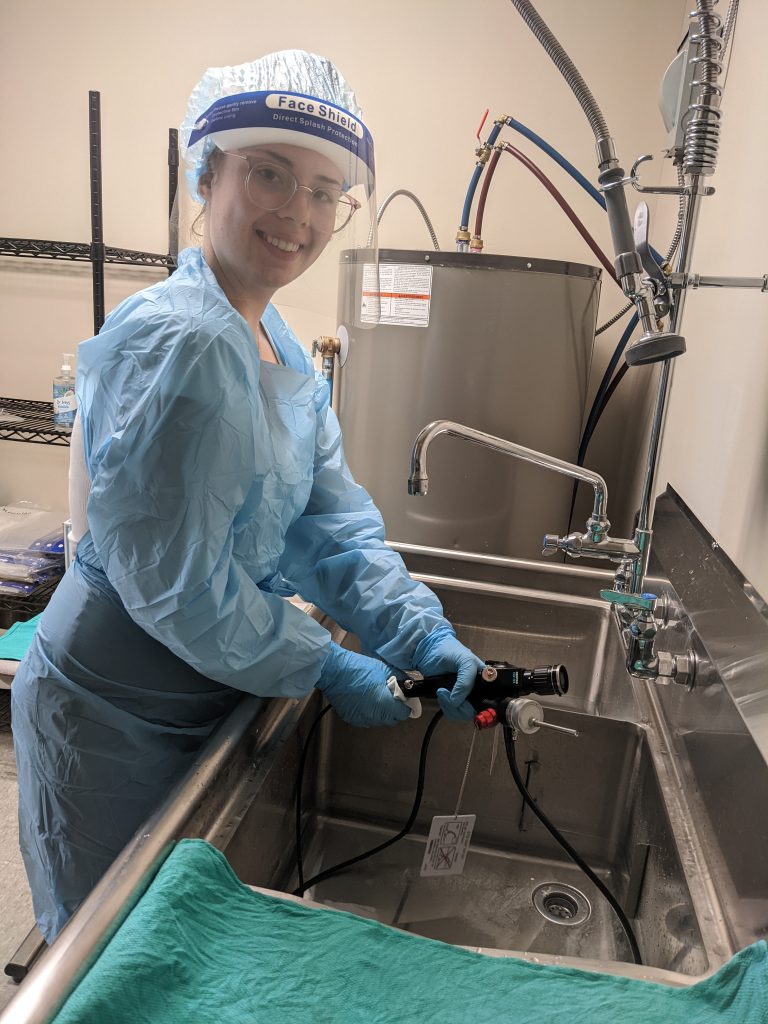 Lily MacPherson has always wanted a career in the healthcare field.
The Medical Device Reprocessing Technician student enrolled at Maritime Business College as a member of the program's first class in March.
MacPherson graduated high school in June of 2021 and enrolled at Mount Saint Vincent University taking a Bachelor of Arts Psychology minoring in Philosophy.
Looking to change directions the 19-year-old was researching colleges online and found the MDRT program.
"I have always had the instinct to help people," said the graduate of Charles P. Allen High School. "I knew I didn't want to be a nurse, but I didn't really know of a lot of jobs that were in healthcare."
There was some nervousness leaving university in March and beginning a new program the following month.
"I didn't really have any second guesses," said MacPherson. "It was a huge change all at once, but it was definitely worth it because I'm way happier here."
She liked the MDRT program because even though the work she will do is behind the scenes she's still advocating for the patient.
Growing up she was an empathetic and supportive individual to everyone. She often found herself as part of a team whether it was volunteering at a soup kitchen or coaching children in lacrosse and basketball.
Due to the role an MDRT plays in the healthcare profession is like being on a team, she feels enrolling in the course was the right choice.
"I don't think I have ever liked something more that I was doing in life, even with sports," said MacPherson. "I always feel sad on Wednesdays when I have to leave school because I have to wait until Monday until I come back."
MDRT is everything she's interested in from learning about all the surgical instruments and cleaning and sterilizing them to be safe for people to use.
The endoscopes class has been her favourite. An endoscope is the device inserted into the body to see what is going on inside.
"It's my favourite because I have never really learned anything like that before," said MacPherson. "There is a lot of hands-on learning as well."
The program includes a 480-hour preceptorship where the students will be able to do hands-on work in a number of different healthcare settings. She's excited about this and has created a countdown in the classroom for the number of days until it begins.
As a visual person, the hands-on learning is something that drew her to the program.
She "loves" the teaching style from her instructor Tiffany Church because of how she conveys the information and her knowledge base.
"She's very passionate about it (the profession) and she wants us to be the best we can be," said MacPherson. "She'll basically really do anything for us that we need to be successful."
The classroom has a diverse group of ages and backgrounds, but it's not something she notices because of the bond they all share and their level of passion for the program.
"It was nice to share some wisdom because everyone else in my class has a lot more life experience than I do, so I'm always asking them questions and they have good advice," said MacPherson.
Her career goals are to begin working as an MDRT before moving up into a leadership role.
"I just really want to be involved in the community. Trying to make a change because there are some things that need to be changed like any job, but I want to be part of the change to make everything better."
That includes making sure the MDRT profession doesn't get overlooked and become more popular while setting higher standards.