Medical and Dental Office Administrator
PROGRAM TYPE
HEALTH SERVICES
Earn Your Medical or Dental Office Administrator Diploma. Be Job-Ready in 14 Months!
Exciting Career Opportunities
Create positive experiences with patients as the first point of contact in a medical or dental office. Work with medical professionals as a valued member of the health care profession. Provide essential, administrative services that support the health and wellness of your community. As a medical or dental office administrator, you can look forward to a professionally and personally fulfilling career. In just 14 months, you will graduate from the medical and dental office administration program and be ready to make a difference in people's lives.
With your medical and dental office administrator diploma, you will enter the professional world with confidence. Graduates from the program find work in a variety of interesting health care environments including physicians' or general practitioners' offices, hospitals, physiotherapist offices, specialists' offices, dental offices, and dental labs. Additionally, after graduation, you'll have the business administration skills to confidently assist executives in many other workplaces.
The best way to see if Maritime Business College is the right fit for you is to come and tour the school. You can tour our facilities and meet with students and instructors. Schedule a tour now or Get more info.
Expert Administrative Training
Maritime Business College's medical and dental office administrator program uses a modular system of training. In modular programs, theoretical and practical issues are closely integrated with clearly-defined learning outcomes. In addition to traditional classroom instruction, you can expect to learn from field trips, guest speakers, industry videos, team projects, online interaction, case studies, role playing, mock simulations, and more.
I am loving my time here and loving the Medical Device Reprocessing program. I have a great instructor and some great classmates! I have absolutely no regrets. I feel confident with the knowledge I'm learning and I'm excited to start working in the field!
Medical and Dental Office Administration Courses
During the medical and dental office administrator program, you will become familiar with office procedures and requirements for a variety of health care settings in Nova Scotia. Some of the courses you will take are:
Medical Office Systems and Procedures:
Learn about the duties and responsibilities of a medical office administrator. During this module, you will become familiar with the different types of healthcare facilities and the role of the Health Authority of Nova Scotia. By the end of this course, you will explore the broad scope of policies, procedures, and practices used in a variety of healthcare settings.
Medical Terminology:
Gain an understanding of the medical terms you will hear working in a medical or dental office. This course covers the anatomical, diagnostic, surgical, and procedural terms related to the human body. By the end of the Medical Terminology module, you will be familiar with the basic structural and functional organization of the body, as well as some basic pharmacology and diseases.
Introduction to Canadian Medical/Business Law:
Learn about legally valid consent and how it relates to the medical system. Understand the legal expectations about the standards of care within a healthcare profession. Know the rules and limits of patient confidentiality. During this module, you will become familiar with the structure of the Canadian legal system with a focus on healthcare and employment law.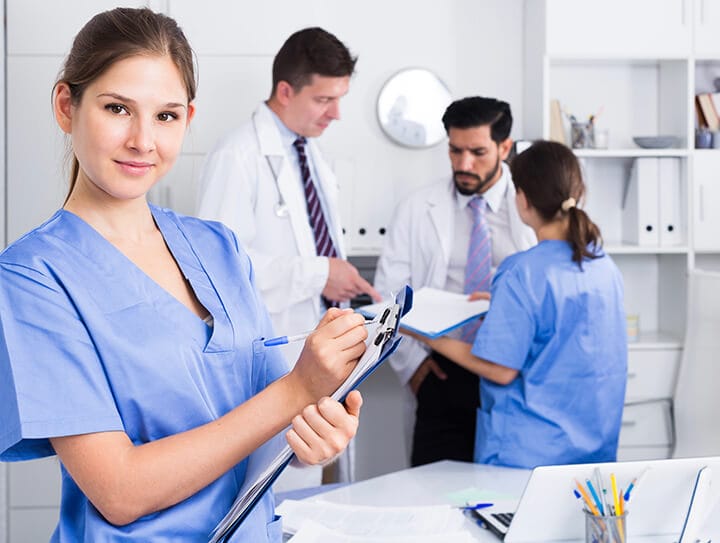 Graduates Salary
$17 – $20
AVERAGE WAGE/HR*
*Employment Rate based on contactable MBC graduates from the last four years employed in a related field.
Source: JobBank.ca
NOC Code: 1221 – **Wage data is for employees in all ranges of experience in the field, rounded down to the nearest dollar, and based on Nova Scotia data. Local (or regional) income may vary.
Is a Rewarding Career in Medical or Dental Office Administration Right for You? Get More Info…
If you're interested in learning more about careers in Medical or Dental Office Administration and exploring whether Maritime Business College is right for you, fill out the form on this page to receive more information.
For immediate questions, call 1-800-550-6516