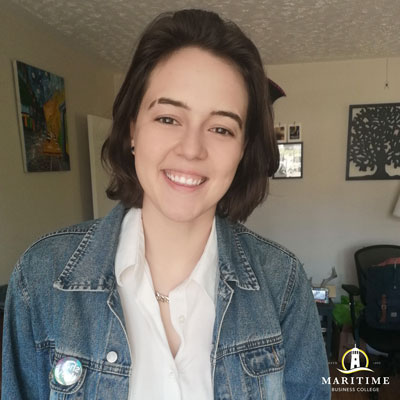 Mackenzie Hepditch went from working for a caterer to becoming an animator.
She's a member of the 2022 graduating class for the 2D/3D Animation and Digital Arts program at Maritime Business College.
Hepditch recently accepted a position as a 2D Animator at Cartoon Conrad Productions, where she just completed her on-the-job training.
In September of 2020 she enrolled in the program during the height of the COVID-19 pandemic when she felt she needed a change of direction.
Her previous career was as a head chef for a catering company in Halifax, but wasn't getting much work because of the restrictions around gathering limits at the time.
"I basically was out of work right away and it kind of got me thinking of jobs that maybe were sustainable if anything like this happened again."
Art always interested her, but she didn't consider herself "super good" at it when she was younger.
When COVID began she started to become interested in cartoon shows. One showshe enjoys is She-Ra and the Princess of Power because of how colourful and other worldly it is while using a lot of pinks and purples.
"I was like you know what would be really awesome was having the ability to make a cartoon show," said Hepditch.
As a child she wanted to be a painter or classical artist. Before she started school she didn't understand there were different kinds of art.
"Digital art is such a different world to be in," said Hepditch. "If you make a mistake you can try a hundred different times to get it right. You can always go back and change it without distorting or ruining something you did before. (It) really kind of changed my mind on how it's easier. You can be less naturally talented, gain the skills and still be able to put in the work without having to be the best pencil on paper artist that has ever existed."
From her graduating class she feels she has made close friends. That blossomed through having sharing similar life experiences. At the same time they were able to grow together through activities like life drawing at the Shubenacadie Wildlife Park and other areas around downtown Halifax.
Adapting to online school brought on by various lockdowns was also something she enjoyed, but found challenging at times. She would be in class and in another room her girlfriend would be working from home teaching anatomy.
At Cartoon Conrad she's working on a TV series where she manipulates and draws in different parts for 2D rigs with short audios for small parts of episodes. They will be revised several times where she makes changes before going on television.
"I don't really do any of the character building, props or designs," said Hepditch. "Those are all premade and then we just add in anything on top of that like specific poses or facial expressions. Then we just manipulate them so they look like they're moving, but they're actually just a bunch of pictures."
One of her career goals is to collaborate with her mother on an animated short story series from scripts her mother wrote based on her stories as an Inuit girl in Labrador.
Hepditch's advice to anyone interested in pursuing a career in this field is to trust the process while in school.
"You're not going to be good at the beginning with 3D modelling," said Hepditch. "Let yourself become good."