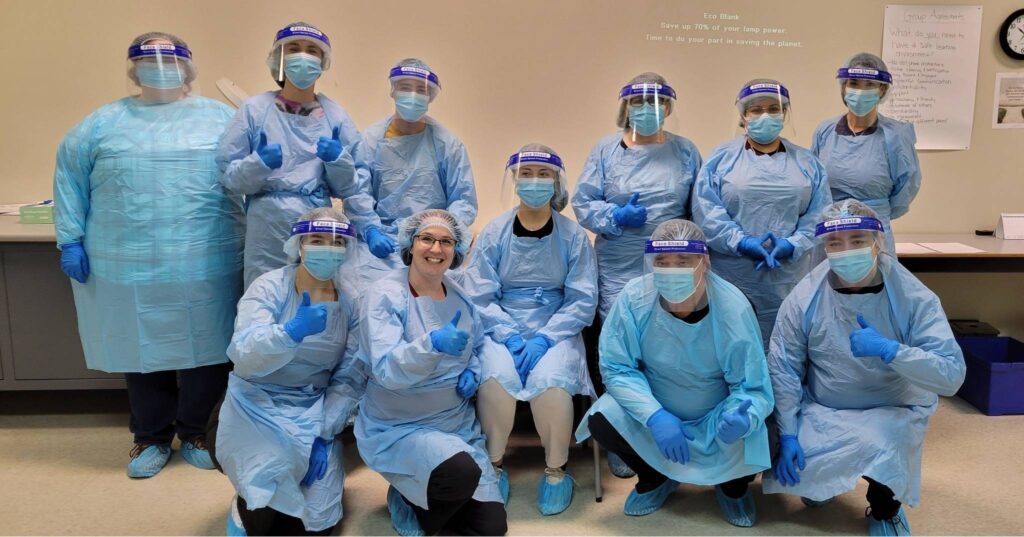 Medical Device Reprocessing Technician instructor Tiffany Church said the first few months of the new program have been busy.
Ten students comprised the first intake that began on March 21, 2022 and have completed seven out of their 13 courses to date.
Four guest speakers have visited the class so far, speaking about what their careers were like, how they enjoy their roles, quality assurance and infection prevention and control.
Students are more excited each day because most of their work to date has been theoretical.
They're moving onto the hands-on and practical components of the job such as assembly and classification of instruments, taking them apart, putting them together and what are they used for. They also spent a few days in the sink practicing the cleaning portion of the decontamination section of the curriculum.
"It really was a game changer," added Church. "(In the beginning) It is a lot of information and theory. It's a lot of, how do infections get created? How do we transmit them?"
The students are keen when it comes to detail and excited about getting out to industry to practice their new skills.
"I feel confident with the knowledge I'm learning and I'm excited to start working in the field," said Lily MacPherson, a recent high school graduate and current MBC student.
Another early highlight was Andrew Murray, a Grade 12 student from Bay View High School, attended class for eight weeks on Wednesdays for observation. This was for student mentorship through the Community Based Learning program that was overseen by his high school.
Murray not only observed, but participated in some of the discussions and other class activities.
Outside of facilitating programs, this is the first time Church has been an instructor in a classroom setting as the sole content expert.
She has adapted her teaching to her students, who are all pretty open. This has resulted in open discussion conversations and learning from the experience of others.
"I am really enjoying seeing people come from different backgrounds and how do I incorporate their different backgrounds into the role I am molding them into for their new career," said Church.
Students range from recent high school graduates embarking on their first career to mature students who are looking for a complete change in their profession.
"It challenges me to be a better instructor and think of ideas outside of the box that will relate to all of the students," added Church. "Everyone comes from different backgrounds. There is a lot of diversity in the classroom. Thinking about examples that will engage all of the students can be a challenge, but we seem to be rising to the occasion."
So far she feels she has done well with meeting the students' needs.
"If I can tell a student is struggling I seek them out and make sure they are understanding the material," said Church. "I don't necessarily wait for them to come to me. I'll try to identify that ahead of time."
The 51-week program sees the students complete the first half of their time in the college before doing their 400-hour preceptorship/on-the-job training in four different health care facilities. Those include the Halifax Infirmary, Dartmouth General Hospital, Victoria General Hospital and the IWK Health Centre.
The students will spend 100 hours at each facility following a preceptorship to learn all the skills required to be competent to do the work. They will have to complete a performance checklist to evaluate whether they can meet the criteria to do the work.
During that time they'll work in the decontamination area. They'll also assemble, package and prepare for sterilization and storing of medical devices and more.
Following their on-the-job training they return to the college for preparation for the Canadian Medical Device Reprocessing Technician exam. This includes having access to the exam and practicing it as many times as they want up until they write it.
Church added industry is excited for the students to complete the program and have more qualified individuals join the workforce.
"This program is really going to help with the hands-on delivery and facilitating of the knowledge of that  component. A lot of the other courses that are available don't really have that hands-on portion to the content."