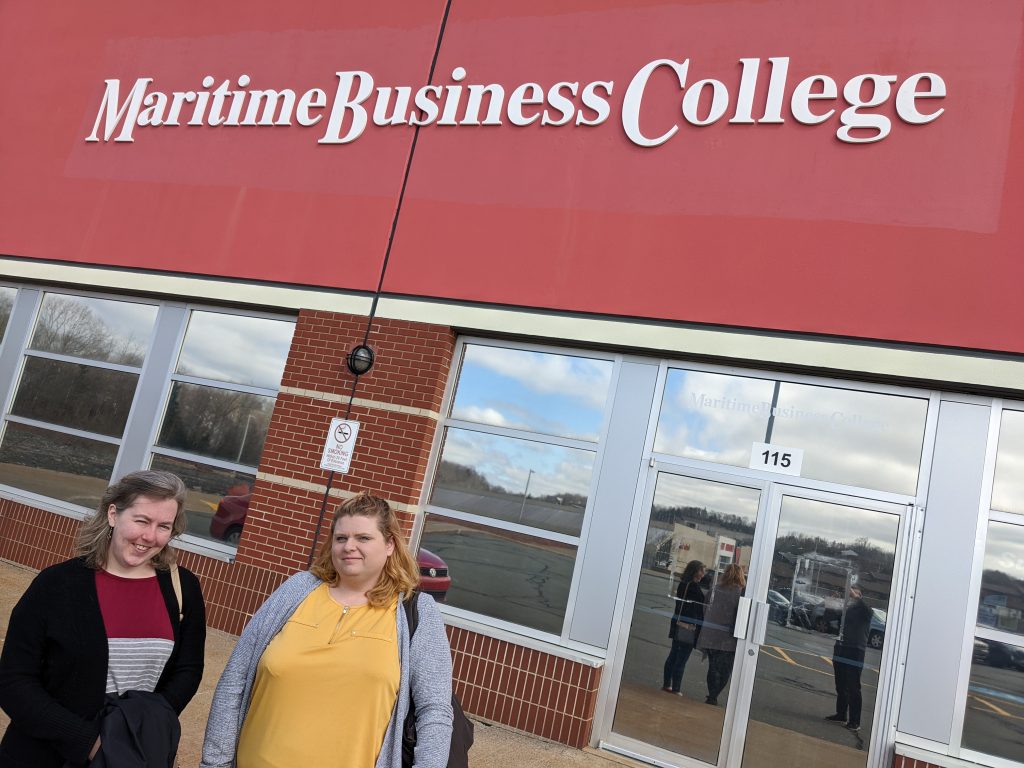 Two Maritime Business College graduates recently spoke to the Counselling Skills/Social-Human Services class about what working in a shelter involves.
Stephanie Watson and Hannah Burrows, who work for the Truro Housing Outreach Society (Hub House), were invited by instructor James Ingram to share their experiences as part of the Counselling Ethics class on April 25.
They described the services they provide working at a shelter, challenges they face, what day-to-day shelter life is like and some of the rewards the work brings.
"The good moments when you get to have a laugh with a client or you get to participate in giving them an experience they never had before," said Watson, a graduate of the program in 2011. "Building really close relationships or connections with your clients."
Burrows added it can be exciting being there on the rare occasion someone gets housed.
A graduate in November of 2021, Burrows is a client support worker, who does three 12-hour shifts per week. Her responsibilities include putting food on the table at meal time, doing intakes when new people arrive, crisis intervention, diffusing when something is happening to playing crib with someone that wants to play the game.
"Pretty well whatever they need."
Watson is the intensive case manager at Hub House. She's responsible for the operation side of the organization, managing anything related to human resources and management of all client cases.
An added benefit to their visit was an opportunity to recruit for potential student placements. A number of former students have done placements at Hub House.
During the presentation students were engaged in the conversation and asking questions that gave Watson the feeling the students would do well in this type of work.
"It was good to hear some of them were talking about interactions they've already been having with people who are unhoused."
This was the second time she has presented to a class, the first was on Zoom last summer. She found it comforting to return to the college and speak to her former instructor's class.
"It's nice being back," she said. "It's a little bit comforting because I kind of remembered for me, what kind of person I was when I was here, which is totally different from who I am now. I never would have thought in a thousand years I would be doing what I am doing."
Burrows, who's new to the field, said she felt prepared going into the profession after she graduated.
Nothing has surprised her because of the stories the instructors have shared.
"That's not to say they covered every eventuality, but they have prepared us to the point that as stuff is happening I'm like, oh yeah, no, I knew this was coming," said Burrows.